Email Detail Migrate
4.6 out of 5 stars (based on 26 reviews)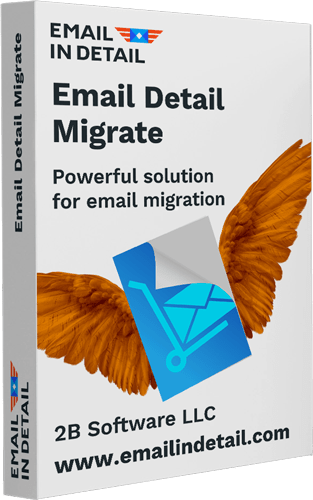 Gmail to Outlook
Outlook to Thunderbird
Source: EML, PST, MSG, MBOX, Gmail
Output: EML, MBOX, PST
User-friendly interface
Windows 7, 8, 10, 11
Migrate Without IT Specialists
The user-friendly way to migrate to and from Outlook without expensive IT specialists. Convert PST to MBOX, MBOX to PST, Gmail to PST, EMLX to PST in just a few simple clicks.
Back up Gmail emails as EML files on your hard drive. Just in case you need to restore your account and to move to a new one, you have ready-to-use copies of your emails. You are not limited to Gmail. Thunderbird, Zoho, Outlook.com accounts are supported too!
Please note that ED Migrate saves emails in email formats. If you want to save emails as PDF try Email Detail Archive.
You don't have to waste time learning new software settings. We've put a lot of effort into designing an intuitive interface of Email Detail Migrate. You always know what to press to get the conversion start.
Accuracy is our top priority. Email Detail Migrate keeps every detail of your messages including headers and attachments.
Get an individual EML out of a large PST archive. Turn Outlook MSG files into universal EML. Transfer MBOX to PST for importing to Outlook. Which ever email conversion you need – Email Detail Migrate is here to help.
Software Specifications
Size: 22 MB, Version: 1.1.0.10, MD5: 6fac0c7638a6404214793848c7fc64b7
System requirements
Hard disk space: 100 MB of free hd space, RAM: 2 GB of RAM
OS
Windows 7, 8, 10, 11 (32 and 64 bit)
Trial version limitations
The trial copy of Email Detail Migrate is good for 10 launches. You test the app on your emails to see if it fits your needs. You can then, buy the key that will unlock your trial copy and make it registered.
Documents
EULA, How to register, Google Api User Policy, User guide
Supported conversions
PST to EML, PST to MBOX, MBOX to EML, MBOX to PST, Gmail to MBOX, Gmail to EML, Gmail to PST.
Delivery
Software is delivered in an electronic form by email. Click the Download button to get the free trial copy that you can register later with the key.
Custom email converter
Because we have our developers in house, this allows us to tweak the code to your personal needs. Should you need an additional option, just contact us. Minor customizations are normally delivered within a week.
Reviews for Email Detail Migrate
Good program – I will recommend it to my consulting clients
At a reasonable price, this tool saved me a lot of time switching from Thunderbird to Outlook.
After installing ED Migrate, it had a problem with collecting all of the attachments. I have asked for the help of tech support to fix this issue, as result, they fixed that bug in a single day. Their sys admins were prompt and kind.