Email Detail Viewer
4.8 out of 5 stars (based on 29 reviews)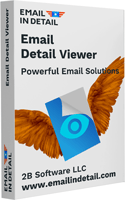 View MSG without Outlook
Open EML with attachments
View headers, bodies, attachments
Free to home users
Windows 7, 8, 10
View MSG and EML In Detail
Email Detail Viewer is a powerful app to open and view MSG, EML, EMLX, MIM, VCF, Winmail.dat files. Access emails without Outlook or any other email program on your pc.
The app offers 2 modes of email viewing: with or without the file tree. If you have just one MSG to open, please use the full-size mode. If you need to scan several emails in different folders, please, use the file tree mode.
Email Detail Viewer helps you copy, move, delete your MSG and EML files.
Email Detail Viewer allows not only viewing the body of the emails but also explore every detail in the headers. The body of each email can be previewed in both HTML and TXT.
Most types of attachments can be previewed right in the app. You can save them to your hard drive as well.
Email Detail Viewer can be a great substitution of expensive Outlook in meeting rooms or on those computers that are not used to send and receive mail.
Software Specifications
Size: 16 MB, Version: 4.3.0.5, MD5: 6fac0c7638a6404214793848c7fc64b7
System requirements
Hard disk space: 50 MB of free hd space, RAM: 2 GB of RAM
OS
Windows 7, 8, 10 (32 and 64 bit)
Free version limitations
Email Detail Viewer is free to all users outside of any work environment. If you want to use it in the office, apply for a commercial license. It's quite affordable. The software is not limited in any way.
Documents
EULA, Installation, User guide
Purchase
Via any credt card, WeChat, PayPal and many other local payment methods. Should you need an official PDF quote, please request it on this page.
Delivery
Software is delivered in an electronic form by email. Commercial users buy the key chich is sent be email.
Custom msg viewer
Because of our in-house Developerss, we can add/remove any option or provide you with a white label solution. Tell us what you have in mind and we will create a personally tailored email viewer.
Prices & Download
Email Detail Viewer is free for personal use outside any work environment. Commercial users should apply for the license.
Reviews for Email Detail Viewer
Very happy that we switched to Email Detail software!
I faced some issues with DAT files. Kevin from the support team was polite and helpful. Good service!