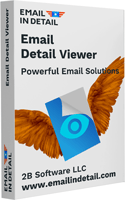 Email Detail Viewer Video Guides
Free Outlook viewer to open emails without email clients. View MSG, EML, EMLX, VCF files. Get access to all attachments too! Free for home users, affordable to businesses.
Killer feature: view attachments
Associate EML and MSG extensions with Email Detail Viewer to be able to open them in 1 click. If your email has attachments you can view them right in the app. Alternatively, you can save them to your hard drive and open in another program.
How to change the view mode
Email Detail Viewer offers two view modes. One shows you the folder tree and the files in each folder. The other devotes more space to the email you want to view.

Got a question? Get your answer
What email can I open?
Email Detail Viewer helps you open EML, EMLX, MSG, VCF files.
Do I need Outlook installed?
No, you don't need Outlook or any 3rd party apps to be installed to view your emails.
Shall I buy a license?
No, if you use Email Detail Viewer for your personal needs. If you need the email viewer in your work, buy the commercial use license. We offer enterprise and Citrix licenses too.
Prices & Download
Email Detail Viewer is free for personal use outside any work environment. Commercial users should apply for the license.
Technical requirements

Email Detail Viewer runs under Windows 10, 8, 7, Server 2016, 2012, 2008 and 2003 or Linux in conjunction with Wine. Windows 64-bit is supported.