How to Convert Gmail to EML
Today every second user is having an email account on Google. Gmail is the most popular free email platform, next close is Outlook.
What if you need to migrate your Gmail box or want to convert Gmail files to EML format? No worry, Email Details Migrate is a very handy software to convert Gmail files to EML files in no time.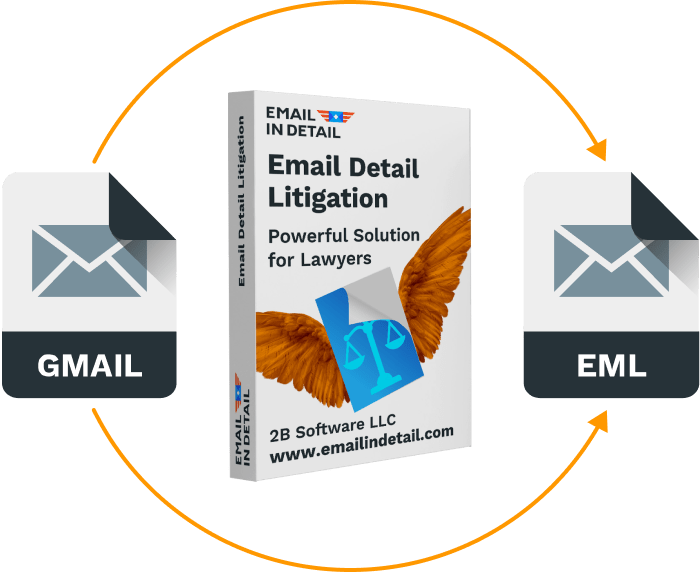 Advantages and features
offered by Email Detail Migrate for converting Gmail to EML

Email Detail Migrate app is very customer friendly; it does not require any technical skills. Type your email address, connect to your Gmail account, get EML files. No need to learn anything to get started.

Email Detail Migrate offers the fastest way to back up Gmail emails as EML files on your hard drive, just in case you need to restore your data.

Your data is safe and secured at your end only. The original emails in your Gmail account are not removed or changed in any way. The program just makes .eml copies of your emails.

You are not limited to only Gmail. Thunderbird, Zoho, Outlook accounts are supported too. It offers great accuracy and quality while delivering output, originality of data is not hampered.
How to convert GMAIL emails to EML in simple steps using ED Migration tool?
Just simply follow below steps, Refer to snapshots and YouTube video link for complete reference.
Click button 'Select Source' and add you Gmail email address and Password. Click Test Connection.
Click on advanced option to proceed, and give all the permission to access your Gmail account.
Upon Gmail account adding, make Destination folder setting, Apply filter as per need and Click open Email.
Now Click Start button to start the conversion process.
Why Convert Gmail Emails to EML Files?
The answer is simple: nobody wants to lose his/her data. ED Migrate helps you backing up your Gmail emails as EML files on your hard drive. Just in case you need to restore your account to move to a new one, you have ready-to-use copies of your emails. So, in simple words you and your data both are safe. EML is the standard for many email programs so you will easily import them to almost any platform later.
How to export Gmail emails in batch?
Exporting emails from Gmail is easy but you need to export each email individually, one by one, which is a very hectic task. You can click on 3 dots button in any email message and click on "Download message" to export that email on your desktop as shown in below snapshot.

But if you need to export files in batches, it becomes tricky and tiresome. So you can use Email Detail Migrate software which can migrate and save Gmail files to EML format on your machine.
How to convert Gmail to EML with attachments?
This process is the same and we need to follow the same approach as explained above. Email Detail Migrate saves every bit of data including all attachments.
Desktop Software vs Online Converter
Now, the question arises is should we use any Gmail to EML converter software or opt for online converter tools? I would never suggest using online or cloud converter tools because of below reasons.
Online tools are never safe options, as your data is at risk, wherever software like EDM are safe and foolproof.
There are privacy concerns, as you never know who else can access your data when it goes public, but in EDM, your data is in your hands only.
Software is quick and processes thousands of emails in batch, making it the quickest way of exporting Gmail as EML files.
EDM software has an interactive and simple user-friendly interface to deal with.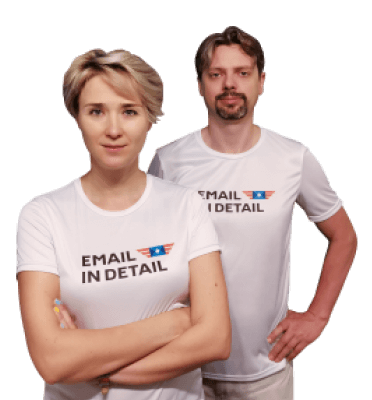 Buy safe!
We stand for our code. You are covered with our 2-week money-back guarantee if the app can't convert your Gmail to EML.
FAQs: frequently asked questions
I hope the process is clear to you and you don't have any doubt regarding the same. Please do check all the FAQs for more clarity and if you still have any concern, get in touch with ourSupport team. We are happy to help and assist you.
What is the .eml format?
EML is short form for electronic mail is a file extension for an email saved as a file.
How to open EML files in Gmail? Can I import read EML files in Gmail?
You can connect to your Gmail account over IMAP and can open the EML files in Gmail. Yes, you can read or import EML files in Gmail using EDM software.
Can I convert multiple Gmail emails to EML?
Yes, Software allows the conversion in batches as well, where you can convert multiple Gmail to EML file.
Can I selectively choose emails to convert from a Gmail account to EML file?
Yes, EDM software allows you to convert files in customized way as per your need. You can select or choose emails as per your wish to convert from a Gmail account to EML file.
Does this software export all folders from Gmail account to EML?
Yes, EDM software helps you in exporting all the folders as per your need.
Is there a free method to export all Gmail e-mails to EML?
Yes, but then you will have to export all emails one by one which is not possible if your mailbox has thousands of emails. With the help of EDM software you can do it in batch processing mode in just a few minutes.
Do I need an internet connection to convert Gmail emails?
Yes, you need an internet connection to convert Gmail emails.