How To Use Email Detail Apps
We've put together some commonly asked questions to give you more information about the programs we offer. If you can't find an answer on this page, contact us and we will be happy to help you.
Kevin Rust, Your friendly support manager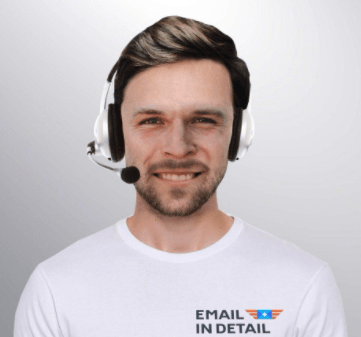 Got a question? Get your answer
Which email app to choose?
We have 8 email solutions, no wonder you are at a loss. Our app titles are the key.
If you want to view emails without Outlook, use ED Viewer.
To archive Outlook, Gmail, MBOX as PDF, use ED Archive.
To migrate to and from Outlook, use ED Migrate.
To search emails by keywords, try ED Search.
Sure enough, ED OST2PST will help you convert OST files to PST.

Find all the info at https://emailindetail.com/products
How to register
You will be invited to unlock the app with the key sent to you by email after we have received your payment. Launch the app, select the License and then Enter the pass key. Copy the key from the email and paste it into the app. Your email solution is fully functional after restarting the browser. Check if your name appears in the About section. Full article with screenshots.
How to request a quote
Request a personalized quote on this page. Add your company's details and the number of licenses that you will need. We will get back to you with the PDF quote within hours. Each quote remains valid for 30 days. Please note, we offer enterprise licensing for more than 90 users.