How to convert PST to EML?
Here we will show you how to convert PST files to EML file format using Email Detail Migrate. ED Migrate is a software tool from the Email in Detail family that provides solutions for all email scenarios.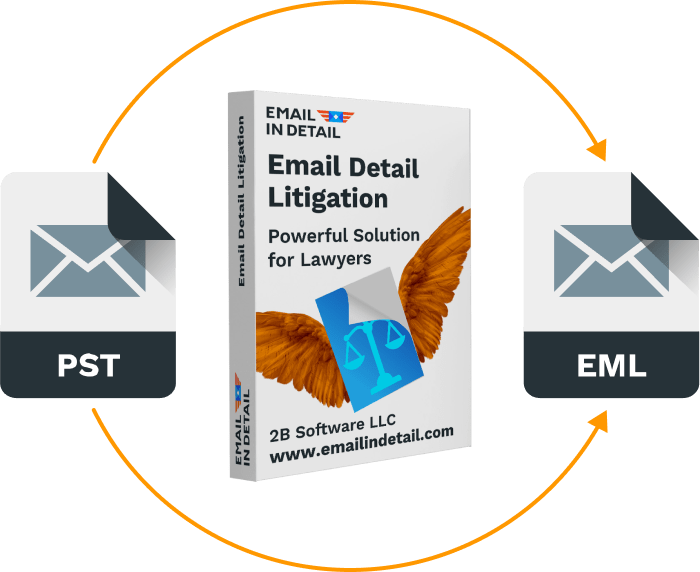 Advantages and Features
offered by Email Detail Migrate for converting PST to EML

Email Detail Migrate is a very accurate converter that transfers every bit of data, including headers, attachments, contacts. You can save PST to EML without losing anything.

Email Detail Migrate helps technophobe users in taking backup of Outlook emails. You won't get lost in settings or manuals.

ED is a simple, user-friendly, and safe PST to EML converter. Converting PST to EML online is a risky option. Choose desktop programs instead.
Explanation of file formats and their differences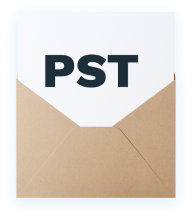 What is an outlook PST file?
PST is Personal Storage Table, a file format famous for storing copies of messages, events, reminders and various other items. It is used in Microsoft products, mainly in Outlook.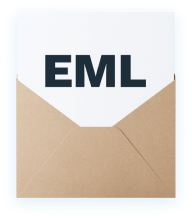 .EML/ .EMLX:
EML is electronic mail or well known as email. It is a file extension for any email message saved in a file in the Internet Message format and protocol for email messages. It is used by various email provider platforms apart from Microsoft Outlook.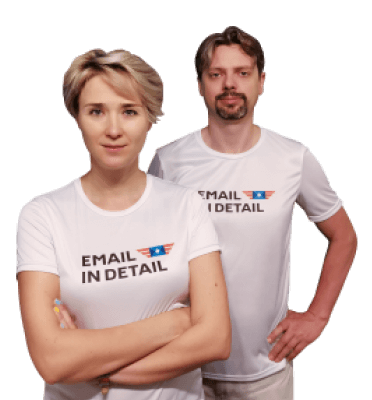 Buy safe!
We stand for our code. You are covered with our 2-week money-back guarantee if the app can't convert your PST to EML.
Why it is useful to convert PST to EML?
Since PST is a folder of all the Outlook email messages, it is like a storage table having all the messages placed together as a single file. It is a way of taking backup of Outlook emails on your local machine. Hence when you need to extract any single email, you need to convert PST to EML format. In EML format, you can save each and every email message as a single file individually.
Why is using software better than using online services?
ED Migrate is very fast and convenient in converting PST file format to EML messages. It does not upload you files over any cloud, hence reliable and safe. Output file is completely same as Input file, no data loss or change.
Backup Outlook emails to EML on local computer?
ED Migrate is a great Outlook to EML converter, can help you in taking backup of your Outlook emails on local machine in form of EML format. A backup is always useful in today's time, when chances of data corrupt or data loss due to malware or virus are very high.
Are there any limits when converting from PST to EML?
No, with licensed version software on your system, there is no limit. You can use the software as per your wish for personal or professional purpose.
How to batch export Outlook (PST) emails to EML?
Email Detail Migrate works flawlessly, in no time; you can export emails from Outlook to EML or other formats. It even works in batch mode, where you can input batch of files and export them together saving a lot of time.
How to export Outlook to EML files emails by using ED Migration tool?
Email Detail Migrate is a PST to EML file converter. It helps export outlook to EML files. Process is simple and easy. Just follow below steps to work along.
Click 'Select Source' and check 3rd option, Microsoft Outlook button.

Now hit Open Outlook button to add outlook PST file and click Next.


In Destination, check the first EML radio button and give Output file destination as shown and Click Next.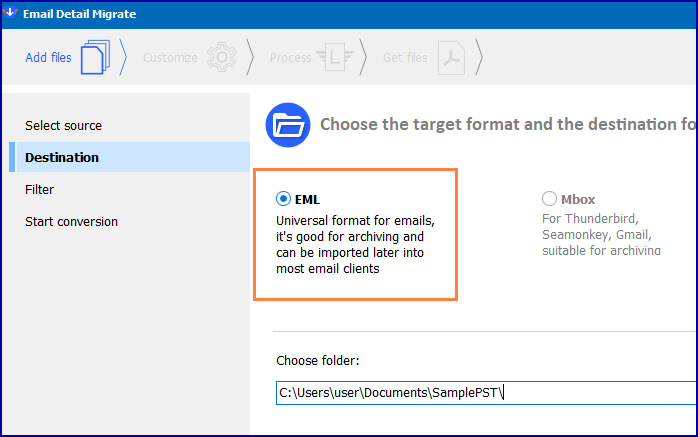 In Filters, you can set filters to refine the conversion.
Now click Start button to proceed.
After successful completion, User can go to output folder to check files.
FAQ: frequently asked questions
I hope the process is clear to you and you don't have any doubt regarding the same. Please do check all the FAQs for more clarity and if you still have any concerns, get in touch with our Support team. We are happy to assist you.
What is the .EML format? Can I open it in Outlook?
.EML is short form extension of Electronic email message. Yes you can open it in Outlook.
What is the advantage of converting a PST file to EML file format?
PST file is a folder of all messages, but with EML you can save each email message as a different file.
Is it possible to export Outlook emails to EML with attachments?
Yes, it is possible to export outlook emails to EML with attachments as well.
Does the tool allow converting Outlook emails into EML file format without Outlook?
Yes, you can convert PST to EML without outlook on your machine as well.
Can I convert all the files in batch mode with this software?
Yes, you can convert all the files in a batch mode.
Does the tool convert many files without any limitations?
Yes, there is no limit and may convert any number of files.
Can the tool transfer the data according to the date?
Yes, tool transfer the data according to original dates, no change in data or file except the file format.
Other supported conversions
Email Detail Migrate is not limited to MBOX to PST conversions. It can also help you convert: