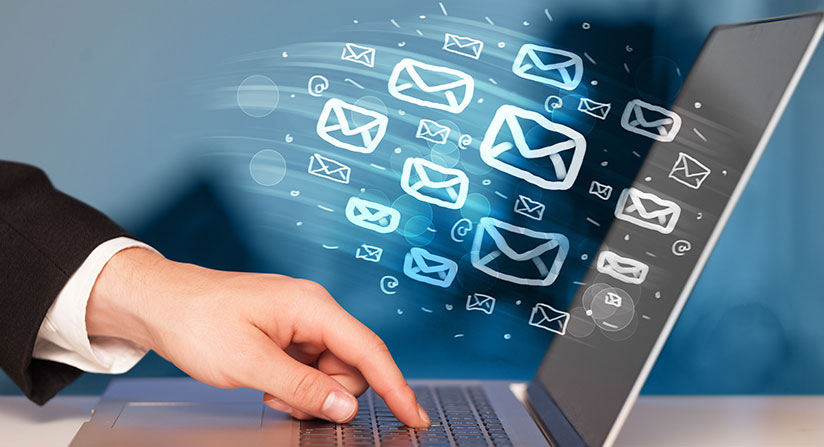 THE BEST RECOMMENDED LEGAL SOFTWARE FOR EMAIL MANAGEMENT BY LAWYERS
An email has long been the preferred mode of communication for businesses. Despite introducing new communication channels, it remains popular due to its ease and security. Email is accepted by the law as evidence of communication because of billions of active users globally. Read more…
Email Detail Litigation
4.8 out of 5 stars (based on 40 reviews)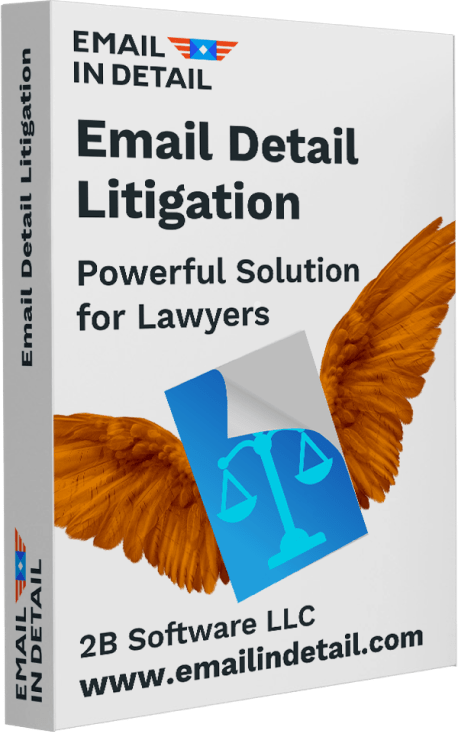 All-in-one email converter designed for attorneys, law offices and litigators.
PST, MBOX, MSG to PDF for e-discovery.
Tune the output PDF to match court standards.
7 options to process attached files.
Windows 7, 8, 10, 11.
Emails to PDF For Legal Professionals
With Email Detail Litigation you don't have to be a computer person to produce an accurate PDF of any email file and stamp bates.
Email Detail Litigation works on any email file type, regardless of source (Outlook, Thunderbird, MBOX, PST, EML, EMLX, MIM, VCF, MBOX, etc.) or size and with any kind of attachments.
Email Detail Litigation meticulously renders non-standard characters like emojis and non-Latin languages (Hindi, Hebrew, Russian, Arabic, etc.). Every character as originally written, guaranteed.
Get full control of your data processing on your computer rather than in the cloud.
Stamp bates, add bates number to file names, use sequential numbering across multiple folders – we've added any option that a legal professional could need.
Against a tight discovery deadline? Download your copy, buy the key online and convert your emails. It takes just a few minutes to begin.
Software Specifications
Size: 64 MB, Version: 2.1.0.3, MD5: 6fac0c7638a6404214793848c7fc64b7
System requirements
Hard disk space: 200 MB of free hd space, RAM: 2 GB of RAM. Windows 7, 8, 10, 11 (32 and 64 bit)
Supported Formats
Email Detail Litigation supports all popular emails – Outlook profiles, archived PST and OST files, Thunderbird emails as well as MBOX files, EML, EMLX, MSG emails. Along with emails you can add Office documents (PDF, Word, TXT, XLS) or images and stamp bates to all of them.
Trial version limitations
The trial copy of Email Detail Litigation is good for 10 launches. When you enter the key, it becomes registered. The registered email converter has no limits (any number of launches, any number of msg and eml files). The purchased license does not expire.
Documents
EULA, Registration, User guide
Safe Purchase
We accept all credt/debit cards, WeChat, PayPal, Boleto Bancario and many other local payment methods. Should you need an offical quote, please request it here.
Instant Delivery
Software is delivered in an electronic form by email. You download the app and register it with the key you receive by email after your purchase. It normally takes 4-5 minutes to begin processing emails.
Custom email to pdf converter
Email Detail Litigation's easy interface hides a powerful email conversion engine based on our years of file conversion experience. As developers, we can tweak the code to your needs. Minor customizations are normally delivered in a few days. Tell us your requirements via the contact form.
Prices & Download
Сhoose the all-in-one Email Detail Litigation to process emails, DOC, PDF, XLS, TIFF files in one go. Get accurate PDFs with bates.
Version 4.2.0.2
A new feature, using the installed office within the program for attachments, was added.
Version 4.2.0.1
Processing zip files faster and clearer.
Version 4.1.0.8
New features, processing of zipped folders and using bates only for numbering, were added.
Version 4.1.0.7
Processing of Unicode characters became better.
Version 4.1.0.5
PDF files are previewed clearer.
Version 4.1.0.4
Processing attachments index became clearer.
Processing attachments with Unicode improved.
Version 4.1.0.5
PDF files are previewed more clearly.
Version 4.1.0.4
Saving attachments with Unicode improved. The processing attachments index became clearer.
Version 4.1
New filtration features and efficiency improvements were added.
Version 2.0
New rules to process images in email bodies. Users can decide if they want to download images from the web or leave the links as they are.
Version 1.6
Improved progress dialogues to show what the app is on at the moment.
Version 1.4
Email Detail Litigation 1.4 speaks English, German, and Spanish.
Version 1.3
New Combine By Large PDF Chunks options has been added.
Version 1.2
We have updated Rename option by adding new macros.
Version 1.0
The basic functionality that supports emails to PDF conversions with bates stamping.
Reviews for Email Detail Litigation
We are a bank and are exporting emails to PDF for our legal counsel… I would gladly recommend your product to our legal firm
I received the key right away and installed it without any issues. Amy Jane
Besides either the excellent email conversion, the tech support team is extremely pleasant.
Can I combine several emails into one PDF?
Sure. Email Detail Litigation offers 2 options. The first one converts each email to a PDF file. The second option combines all emails into one PDF file. It's up to you to choose!
Can I combine emails with an existing PDF?
Yes, you can. Email Detail Litigation supports many file types. You can imput PST, MSG, EML, PDF, DOC, TIFF and get accurate PDF copies. You can also combine all your files into one PDF file.
Can I bulk extract email file attachments to my hard drive?
Yes, you can. Email Detail Litigation is very flexible in terms of processing attachments. You can xtract attachments and place to a new folder in their original file types. You can convert attachments to PDF and save in a new folder. You can attach them to the final PDF with the email body so that the attachment gets opened by a default program on your computer (i.e. XLS attachments will be opened in MS Excel).
Can I use my license on another pc (migrating all my stuff)?
One license is good for 1 person and 1 location (account, computer, etc.). If you migrate to a new location and want to transfer Email Detail Litigation, contact our support team. They will send you a new key.