MSG to PDF For Legal Needs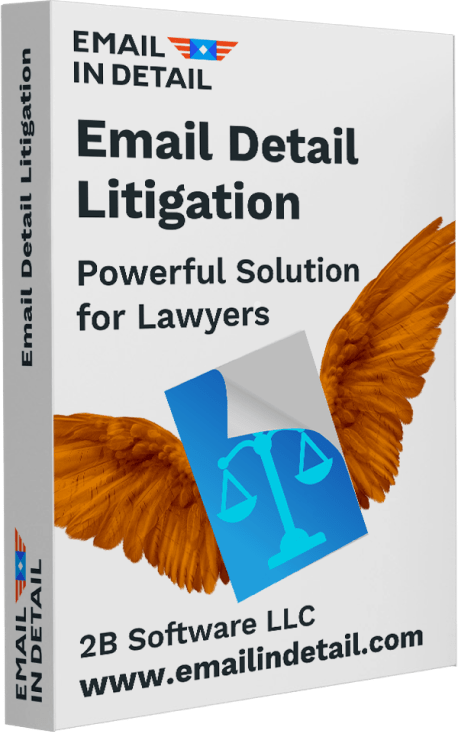 Convert MSG to PDF in 5 min from now
Very accurate output with bates stamps
Embed attachments, include a clickable link, convert to PDF or save in their original formats.
User-friendly interface for 'not computer persons'
One-time payment, instant delivery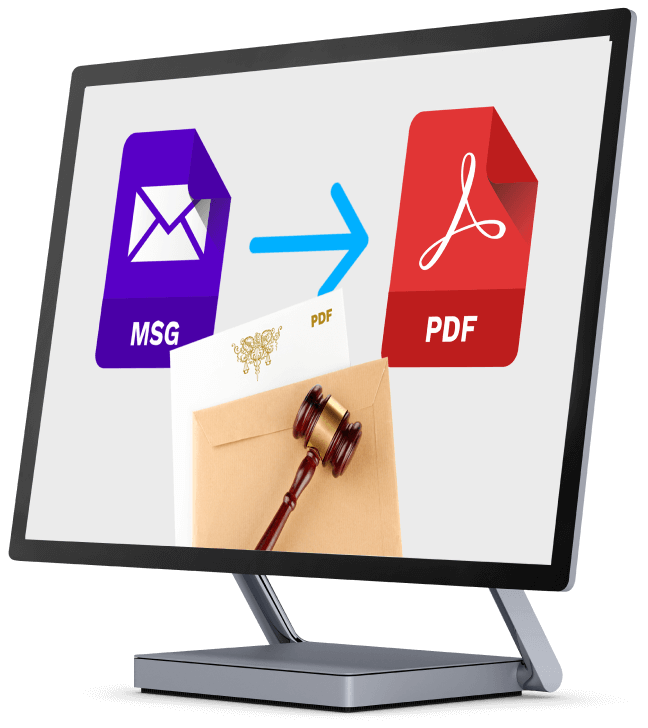 MSG Converter Loved By Law Firms

You don't have to be a computer expert to convert and produce MSG files. We've designed a transparent interface: input MSG, select a destination folder and press start. The folder with your new PDF copies opens in minutes! Watch the video below to discover how simple it is.

Work with any email file type or size. You don't have to figure out whether Email in Detail Litigation handles your specific email file type – we handle them all (msg, eml, emlx, pst, mbox). Other solutions can't say that. And we can even handle large files with ease.

Against a tight discovery deadline? Email Detail Litigation is at your fingertips. Press the Buy button, pay with your card or PayPal, download the app, and start converting MSG files immediately. No waiting for outside IT consultants to process your emails. You do it in-house and save!

With a single license of Email Detail Litigation, you can process numerous .msg files with attachments. You are not limited to the number of cases, or mailboxes, or time. You own your copy and you use it when you need it.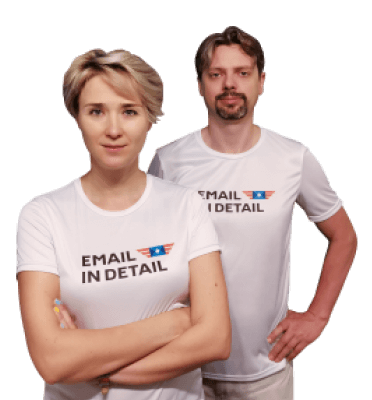 Buy safe!
We stand for our code. You are covered with our 2-week money-back guarantee if the app can't convert your MSG to PDF.
How to convert MSG to PDF With Attachments Video
What About Attachments?
When you convert MSG to PDF, attachments are the crucial part. Other msg converters just process email bodies and those attached files that are in PDF format. Email Detail Litigation supports almost any file type – even if you have a CAD drawing attached. It offers you the flexible combination of attachment & email in the output folder.
Embed attachments into the final PDF. That's the most common way as you have everything in one document. If you have an email with a .doc file attached to it, you will get one PDF. You scroll down the PDF and find the contents of the .doc file below the email body.


2. Convert attachments to PDF and save as separate files. In this case, you will get 2 PDF files, one with the email, the other with the contents of the .doc file.


3. Keep attachments in their original format and attach them to PDF with the email. We have an email and a .doc file attached to it. If we use this option we get the PDF with email and a DOC file attached to it.


3. Save attachments intact to a new folder. That's often required to make fewer changes to the files. How do you know which file belongs to which email? Email Detail Litigation offers a handy renaming option. Each attachment will get the reference to the email in the file name. Zipped attachments may be unpacked.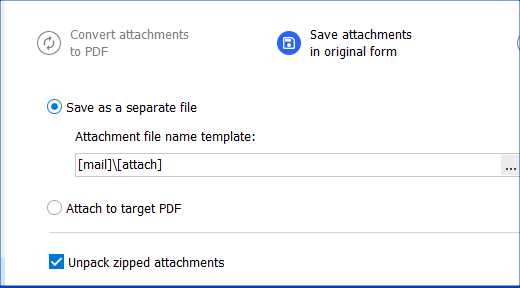 These are the basic options of attachment processing that Email Detail Litigtaion offers legal professionals when they convert msg to pdf. Using a combination of settings users can get any output that fits their case best. For example, embed attached files to the final PDF but also keep the original MSG file and zip it with the output. This way both the MSG and the resulting PDF copy are in one zip to make sure they are equal.
"Absolutely love the product"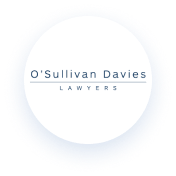 "We usually convert MSG to PDF and have attachments processed at the same time. Occasionally use bates numbering – we use it as a pretty basic level but absolutely love the product!"
Nikki Rollason osullivandavies.com.au
Practice Manager
O'Sullivan Davies Lawyers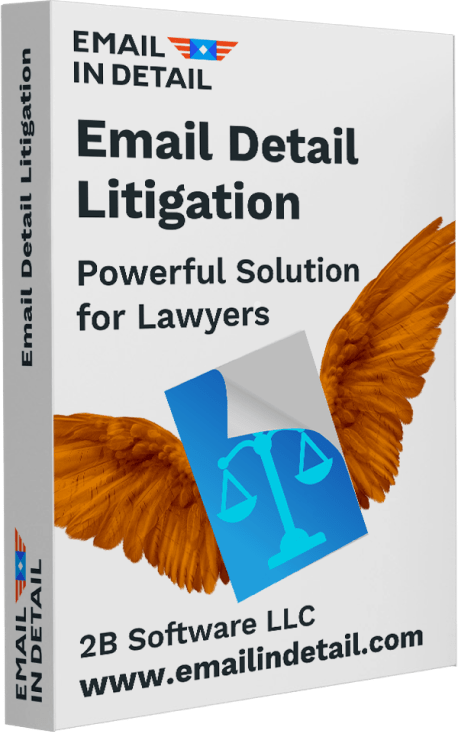 Powerful. Affordable. Easy to use.
That's Email in Detail Litigation
Email in Detail Litigation is an all-in-one solution for email conversion specifically designed for attorneys. No matter your email file's type, size or attachments, Email in Detail Litigation can convert it to an accurate PDF file, complete with Bates-stamps and bookmarks. Its "press a button" easy interface hides a powerful email conversion engine based on our years of file conversion experience.
2-week unconditional money-back guarantee
What To Expect?


Input
MSG files produced by any program. You can also add Outlook emails, EML, MBOX, PDF, TIFF, DOC, XLS, JPEG files to get perfect PDF copies in one go.


Software Prerequisites
You need your folder with MSG files and Email Detail Litigation. No need for Outlook, Acrobat, Office, or any other expensive app.


Output
Multiple PDF files or a single PDF file with attachments converted into PDF and appended after their parent emails. View a sample output.
How To Convert MSG To PDF
You have other important work to do so we've developed the easy-to-follow interface. You will never get lost in settings.
Open the program and click Add Files. Select the folder with your MSG files. Check all .msg files or only those you want to convert to PDF. Note that you can also add Outlook emails, MBOX files, even other PDF, DOC, XLS, TIFF documents that are in the same case. Email Detail Litigation will process them all and produce accurate PDF copies. If you choose sequential bates stamping all the documents will get the right numbers.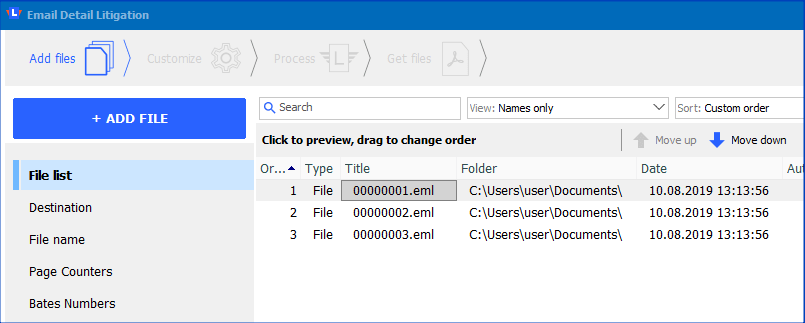 3. Select Destination folder for output PDF files. By default, each MSG file is turned into a PDF file. However, you can check Combine option and get one multi-page PDF with all your source files inside.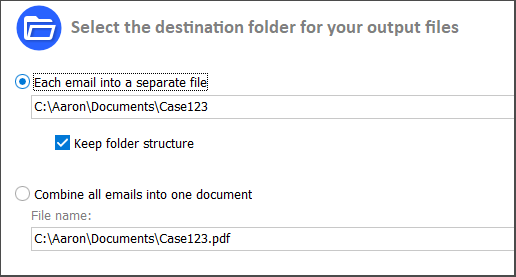 4. Set the bates numbers if you need them. Note that you choose the number of digits, the position on the page, the font and color of your bates. Adding a prefix or a suffix is optional.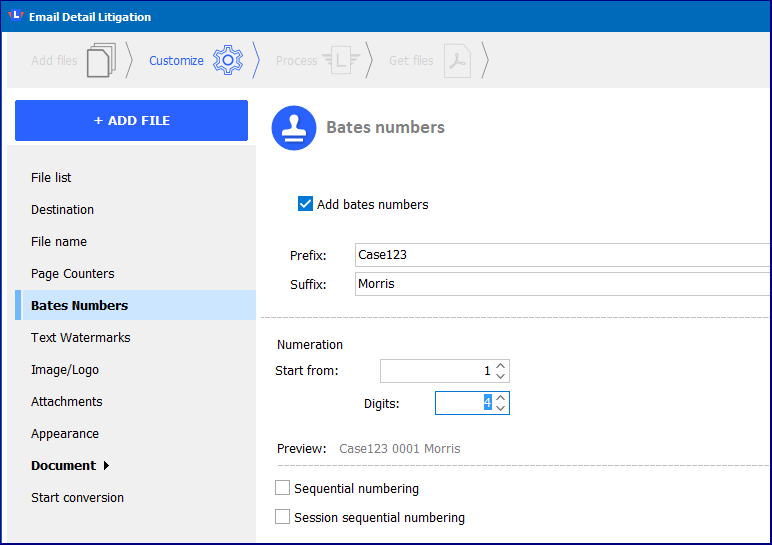 5. Select one of the options to process attachments.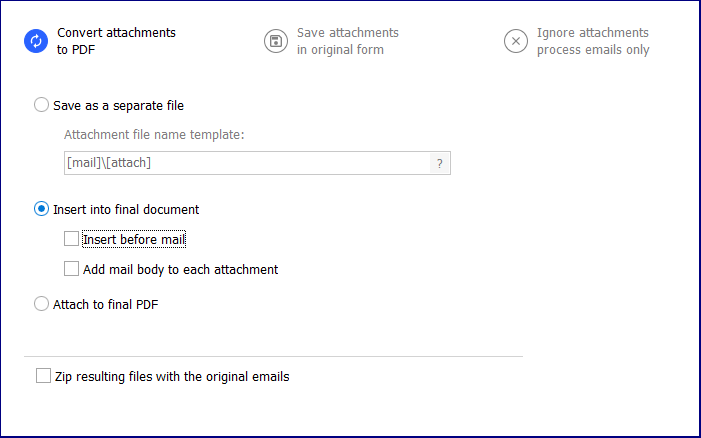 6. Press Start. The program will first show you the summary of all the settings. Confirm them by clicking Start again.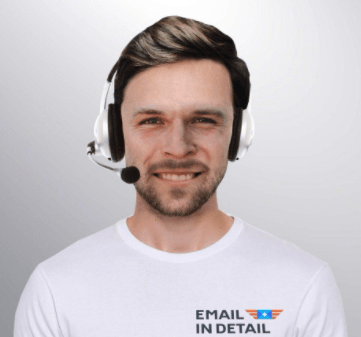 Hello! 🙂
I am Kevin, your support manager. Describe your case and I will advise the right solution.
Buy Your Own Copy
Сhoose the all-in-one Email Detail Litigation to process MSG and other emails, DOC, PDF, XLS, TIFF files in one go.
Tech Details

Operating System
Windows 7, 8, 10 (32 and 64 bit). No Mac or Linux versions yet.

Safe Purchase
Buy Email Detail Litigation with any credit card, WeChat, PayPal, YandexMoney, Boleto Bancario, and many other local payment methods.

Instant Delivery
You will be able to download and register Email Detail Litigation within 2 minutes from the purchase. We will also send the key by email.
Testimonials
There are no reviews yet. Be the first one to write one.

Other Supported Conversions
Email Detail Litigation is not limited to MSG to PDF conversions. It can also help you convert: