Email Detail OST2PST
4.9 out of 5 stars (based on 17 reviews)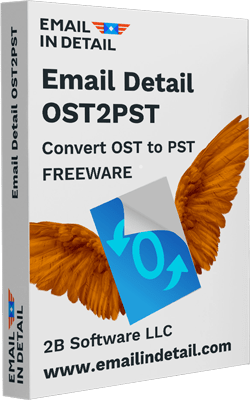 Convert OST to PST fast
Transfer emails, attachments, tasks, contacts
User-friendly interface
True freeware
Windows 7, 8, 10, 11
Free OST to PST Converter
Email Detail OST2PST supports OST files created with any version of Exchange since 2002.
Use our free tool to be able to open emails from Exchange in Outlook. In just a few clicks you will get the new PST ready for import into Outlook.
Not only emails but also all contacts, calendar and tasks are carefully transferred to a new PST.
The simple push-a-button interface is easy for all users. You don't have to explore manuals to convert OST file.
PST files can be a handy back up. In case of the Exchange server crash, you will be able to restore your data in just a few clicks. You do not need costly backup solutions.
No Exchange profile or server connectivity? No worries. Our solution will still convert your OST to PST.
Software Specifications
Size: 17 MB, Version: 2.0.0.12, MD5: 6fac0c7638a6404214793848c7fc64b7
System requirements
Hard disk space: 200 MB of free hd space, RAM: 2 GB of RAM
OS
Windows 7, 8, 10, 11 (32 and 64 bit)
Trial version limitations
Email Detail OST2PST has no trial limitations.
Documents
EULA, Installation, User guide
Purchase
You don't have to pay for Email Detail OST2PST converter, it's free to all users.
Delivery
Press Download button and save the app to your computer. Restore Microsoft Exchange Server data right now.
Custom OSTonverter
We have in-house developers and can tweak the code to your personal needs. Should you need an additional option, just contact us. Minor customizations are normally delivered within a week.
Reviews for Email Detail OST2PST
The true free OST to PST converter, I 've looking for. Thanks. guys!
Response from Email in Detail: view, archive and process emails with ease!
Glad to hear that!
Thank you, it performed well on my Archive folder. Veronica Anderson
Amazing free OST converter with helpful customer support.