How to convert EML to MBOX
Email Detail Migrate provides you with a perfect solution to a common compatibility problem. At the click of a button, EML files can be changed into MBOX to be imported into Thunderbird. Or vice versa, MBOX files are converted to EML.
4.8 out of 5 stars (based on 30 reviews)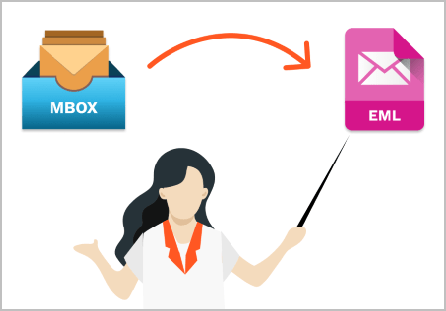 5 simple steps to convert EML to MBOX:
Download and install Email Detail Migrate
Press Select source button. Import your EML file in the program. You can either convert one .eml or a few of them in one go.
Set the Destination – it's the folder with the resulting MBOX files.
Go to the Filter tab and set all the necessary parameters: the sender or the recipient, keywords in the letter subject or its body as well as any attachments. Also, there is an option to select the desired time period not to process all the stored emails.
Press Start conversion. The .eml copies of your messages will be placed in your destination folder.
Watch this short video to help you figure out how to convert EML files:
Why to convert EML to mbox?
Using numerous email clients makes users search for convenient and fast ways of communicating. Undoubtedly, the .eml extension seems to be the most widely used format that you get when exporting mail. Nevertheless, it's not all as easy as it sounds. Some certain programs, for instance, Thunderbird, Kernel MBOX Viewer, Microsoft Outlook, and some others, export files with .mbox extension.
To import your files to these applications and send them to your business partners or clients you need to convert them first. And with Email Detail Migrate it won't cause you any problems. These .eml files might be not only recently received, but also the ones being stored on the hard drive for a long time.
Thanks to this program office employees don't have to rely on their work account in case they change the job and have to restore the data, all meaningful contacts can be saved in one folder as ready-to-use copies in EML, PST, MBOX formats.
A versatile EML. to MBOX converter
Email Detail Migrate is a one-stop solution when a problem of proprietary formats arises. First, the app enables to migrate to and from Outlook without bringing high-cost IT-expertise. It allows us to convert PST to MBOX, MBOX to PST, Gmail to PST, EMLX to PST in just a few simple clicks.
You can check this out for yourself after installing and launching the program. It remains a familiar Windows interface and drag-and-drop capabilities simplify moving emails right from the desktop. However, such a deceptively simple look does not exclude accuracy: every detail of your messages including headers and attachments will be kept in Email Detail Migrate. Finally, there is an option to get a particular EML out of a large PST archive so that you needn't do it manually, just select the required dates. The same thing goes for the sender, the recipient, and other mail parameters, including attachments, which can be set using keywords.
Doing business requires prompt decisions and actions, and Email Detail Migrate provides you with a perfect solution to a common compatibility problem. At the click of a button Outlook, MSG files can be changed into universal EML. Or vice versa, MBOX files are converted to PST to be imported to Outlook. Whatever email conversion you need – Email Detail Migrate is always at hand. Besides, the program is reconcilable with the latest operating systems (Windows 7, 8, 10) and affordably priced. Each company has a chance to purchase a Site license. Unlike a Commercial License it covers up to 30 employees of your company. Obviously, this is up to 30% more beneficial in comparison with a commercial license for each colleague.