How to Convert Email To PDF
Today, Outlook and Gmail share the leading positions in the market. In this article, we will describe common methods of saving emails as PDF files for any email client.
4.8 out of 5 stars (based on 30 reviews)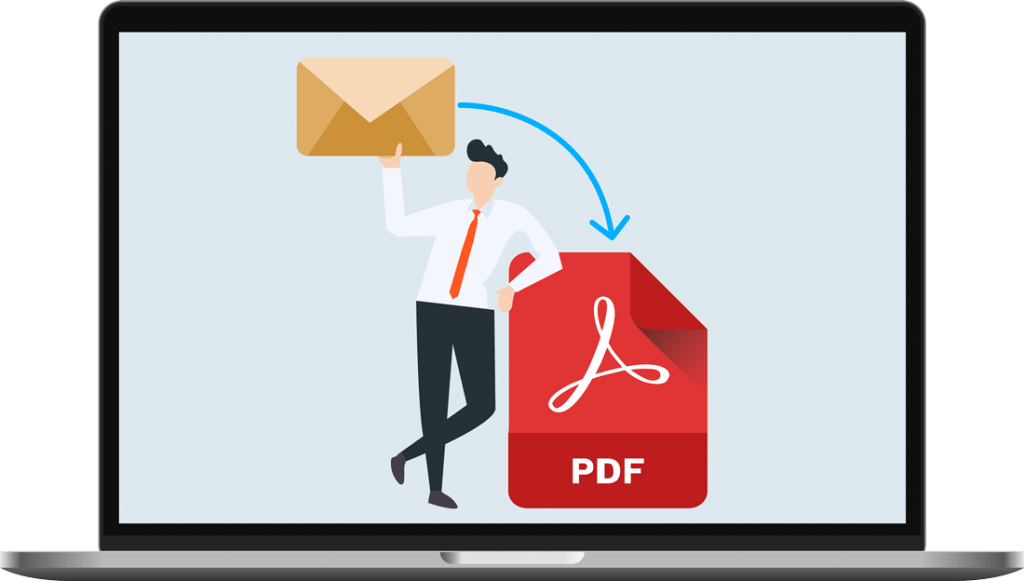 Depending on which email solution you use, the process of saving an email in PDF format will differ.
Email to PDF in Outlook
You're lucky if you have to do it using Outlook, which allows you to save an Outlook email as a PDF. After having double-clicked on the message which you need to save, you want to open the File menu item, and tap Save as. In the dialog box, choose a folder to save the file. And that's all there is to it – save the file.
Convert an email to PDF on an iPhone
And if you need to convert an email to pdf on your iPhone, the procedure will be somewhat more complicated.
Open the email, tap the reply arrow which actually is an action button, and gives you several options one of which is to print the email.
Tap the print button and a screen will appear with the email pages thumbnails.
Pinch outwards the thumbnail image of the first page of your email.
Press the Share button located on the upper right of the screen.
Select the app you want to save or share your PDF-converter email to. You may also or save it to your iCloud.
In our case, we'll email it as an attachment, so it gets attached as a PDF file.
How to make an email into PDF in Gmail
Saving from Gmail to PDF is way easier. Once you have opened your email,
press the print button on the top right of the menu,
in the dialog box in the Printers window choose Save as PDF, select the page you want to save as PDF, and press Save.
Choose a location and tap save again.
Free Online conversion services
There are certain services out there that allow us to convert email archives to PDF online that can come handy. Again, you'd be comfy using them as long as you need to deal with just a few files.
Free online MSG to PDF Converter from Email In Detail
Free online MSG to PDF Converter from Zamzar
But when it comes to converting a bunch of mismatched files, you run into a problem – each of them needs to be converted on different sites, each file needs to be downloaded separately, and these converters do not have any additional functionality, like the page numeration ability we talked about earlier.
Multiple emails to PDF format
You are good to go with the above-mentioned methods to convert email to pdf as long as you have to deal with just a few email messages. But when it comes to converting multiple emails to PDF format, or email archives for that matter, the job of saving letters one-by-one becomes tedious. Specific applications like the ones offered by emailindetail.com are suited best for this purpose.
With Email Detail Archive you will be able to save all common emails to PDF in a few clicks. The app supports emails from Gmail, Outlook, PST, MBOX, EML, MSG files. The resulting files can be organized in different ways. For example, the pages can be numbered or the date will be added to the file name.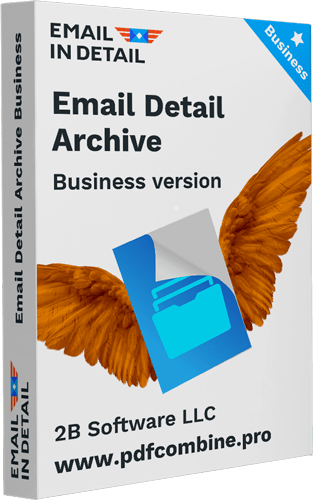 One solution for all emails
One email or whole mailbox in one go
The ability to deal with various file formats is especially appreciated by companies that receive tons of emails from their customers or partners as part of their business activities. First of all, we are talking about law firms that often have to deal with corporate correspondence that comes in different formats and sizes. Just imagine a situation when three parties taking part in court proceedings, present e-mail archives in different formats (mbox, pst, etc.), flavoring the correspondence with images and .doc files. In such cases, the ability to save an email as a pdf looks pathetic, and even the ability to make an email into pdf over the internet looks puny, and cannot replace the ability to convert various types of files to pdf massively with the use of special programs designed to make the job done quickly with an expected result.
Email Detail Archive
We offer 2 versions: free and business. If you have to process just a few emails, select Email Detail Archive Free. If you back up thousands of emails, get Email Detail Archive Business version.
 

Email Detail Archive Free

Free version (no card required)


Email Detail Archive Business

Business version

Price
$0
$159
Batch Processing
Up to 50 emails
No limits
Input formats
Eml, msg, pst, Outlook, Gmail, mbox.
Eml, msg, pst, Outlook, Gmail, mbox.
Output formats
PDF
PDF, PDF/A
Attachment processing
Save attachments in original file types
Embed into PDF, ZIP, save, etc.
Page counters
no
yes
Cover page
no
yes
Text/image watermarks
no
yes