How to Open EML Without Outlook
If you ever struggled to read EML files without having Outlook at hand – the struggle is over! In this article, I am going to tell you about a nice tiny program called Email Detail Viewer which allows you to easily browse and manage your electronic mail saved in a variety of extensions, such as EML, MSG, VCF and EMLX.
4.8 out of 5 stars (based on 30 reviews)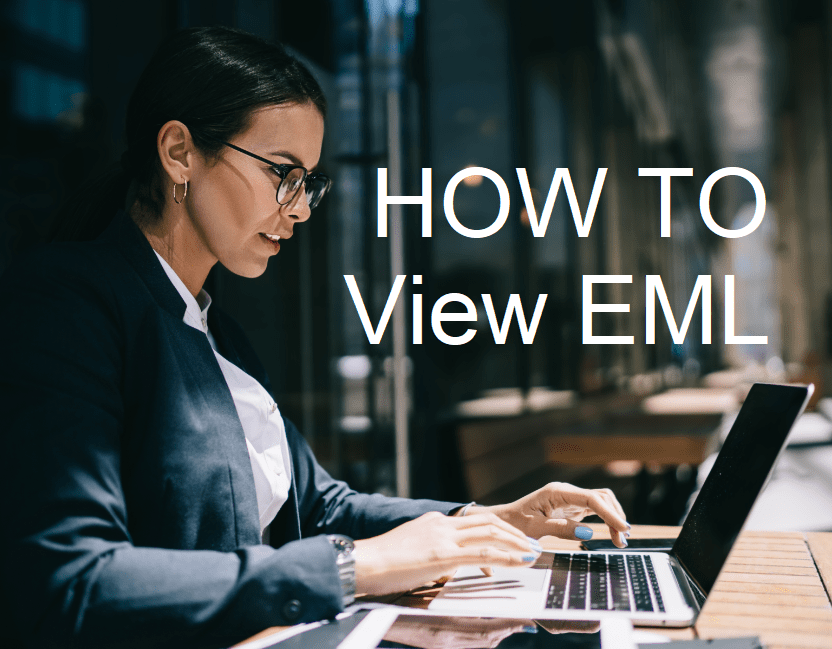 What is .eml file?
First of all, what exactly those EML files are, you may wonder? Well, it is a message stored by an e-mail client on your hard drive. It contains the body of the email, as well as other attributes of an electronic mail, such as sender, recipient, subject, message date etc. EML files may also have one or more attachment files, which have been sent with the message. Email Detail Viewer allows you to deal with all parts of an EML file.
How to open eml file in Windows? Step by step guide
So how exactly can you handle opening EML files using the aforementioned tool? It is simple as a pie!
Download the program from the official website
Install the EDV. Make sure you checked "Associate .EML extension" option
Run Email Detail Viewer
Click "Open Email" button and select an EML file you would like to work with
The email appears in a blink of an eye!
Clicking tabs at the bottom of the screen you could inspect different pieces of data, associated with the e-mail in question
If you'd like to skim through a list of messages – switch to "Folders & Files" view and select corresponding folder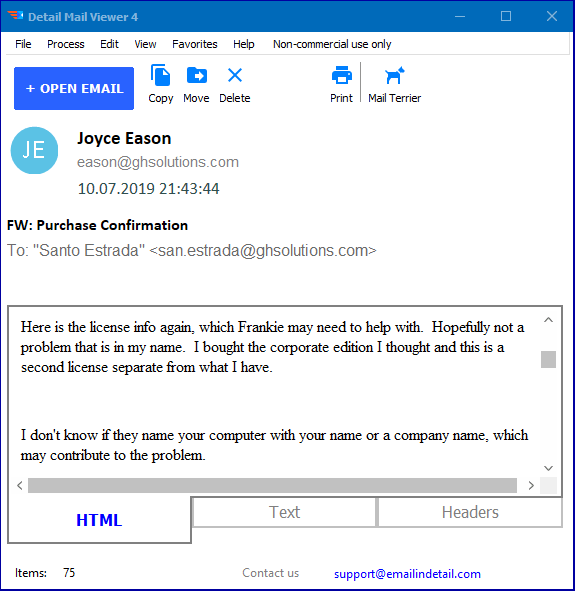 Email Detail Viewer – a free solution to open eml files without Outlook
The software is free for personal usage, incredibly simple to use, and lightweight. Aside from just reading MSG and EML files, the viewer grants you an ability to choose between HTML or text representation of an email, browse its headers or manage attachments. Besides, with Emai Detail Viewer you can open .eml files in Windows 7, 8 and 10, meaning the majority of operating systems installed on modern computers are able to open EML files without Outlook.
For your convenience, you might want to associate EML and MSG files' extensions with the viewer so you have the ability to view them in just one click. Moreover, the program lets you move, copy, and delete selected messages. Imagine how much time could you save on managing and archiving your electronic correspondence! Did I mention EDV allows you to sort a bunch of emails by date, sender, subject, and so on as well as print them?
If you are a business client having commercial usage in mind – EDV has a very reasonably priced commercial license (for one user) and site license (for up to a hundred users). Why overpay for expensive licenses of proprietary email clients if all you need is to merely read and sort EML files, manage their attachments and sometimes print them?
You might ask, why would I need to know how to open an .eml file (which is a native format for popular email clients such as Microsoft Outlook or Apple Mail) using EDV? Well, there are few highly possible reasons you might prefer Email Detail Viewer over its counterparts:
You do not need to create additional accounts and/or log into your email program, as you do with Outlook or Mail
You do not have to purchase premium subscriptions to browse your mail without being irritated with advertisements
You do not need to own a certain type of device and stay bound to its "ecosystem" (Hello iOS/MacOS users ;))
You got tired fighting with a cumbersome and heavy interface that adds a chat, a calendar and a ton of others bells and whistles on your screen
Your licence for a proprietary software you used to manage your emails is expired but you need to read an eml file as soon as possible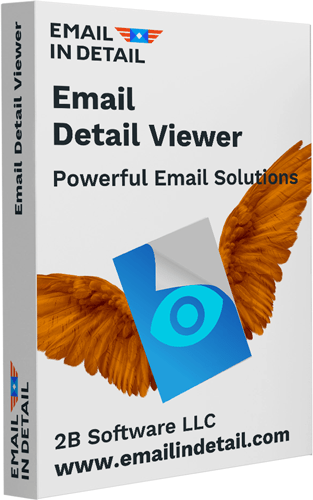 What opens eml files and makes your boss happy? A real-life story
A friend of mine once had student practice in forensics. One day he texts me, knowing I am a tech savvy guy, asking for advice on what program opens eml files. Without going into too much detail he explained he needs to examine thousands of emails, including headers and attachments. Considering the fact his PC does not have a connection to the Internet (for security reasons) and the hardware is far from top notch – all popular mail clients were definitely not an option. That said, also taking into account the enormous amount of data he wanted to browse through (and do this as fast as possible), there was only one option left in my head. My advice was pretty straightforward – he must use Email Detail Viewer!
In a week or two he calls me in excitement thanking me and saying that he owes me a huge drink! After he calmed down a bit he told me his boss was very impressed with how efficient and lightweight EDV was. So impressed that he wants to make it a mandatory tool for the entire department! Can you even wish better acknowledgement for a software that opens eml files? I doubt that.
In conclusion, I hope after the article there are no doubts left on how to open EML files without Outlook in Windows. Email Detail Viewer allows you to not only open an email, but also get access to every piece of its data: contacts, headings, and attachments. It's free, speedy, has a lightweight interface and suits equally well for personal and commercial needs.