Email Detail Archive 1.1 Press-Release
Email in Detail Launches Email Archiving Solution that Revolutionizes Email Backup
Email Detail Archiving tool helps streamline the email backup process and store emails safely as PDF files on a hard drive
2B Software, LLC, the creators of Email in Detail has announced the launch of its innovative, user-friendly app that easily archives emails as PDF files. Email Detail Archive gives business and individual users of all email platforms, including Outlook, Gmail, EML, and MSG, a foolproof way to export and preserve their emails as PDFs for future reference. With this powerful email archiving solution, a wide range of users can now enjoy an affordable and intuitive solution that will help feel confident about important emails.
Email Detail Archive was created as a secure email storage answer to complicated, costly cloud-based solutions on the market. With cloud storage systems, security can be a concern, as well as length of time that preserved data can be accessed due to the ever-changing nature of today's cloud-based service providers. With Email Detail Archive, users can backup their emails on their computer hard drives, giving them ultimate control over security and access to their emails.
The creators of Email Detail Archive designed the program with ease-of-use in mind, delivering a straightforward, foolproof interface that even novice technology users will appreciate. With a few easy clicks, users can convert their entire email inboxes and outboxes to PDF files. Users can also remove items from their conversion job, so that they only preserve the emails that are most important to them. Email Detail Archive walks users through each step of the conversion and archiving process, allowing them to choose which emails to convert, which data to include (such as sender, date, etc.), and what to name the archived file.
Email Detail Archive's app provides businesses and individuals with an affordable archiving solution that does not involve intervention from a tech team or messy proprietary archiving formats that may be inaccessible in the future.
"With Email Detail Archive, users can easily archive and back up their emails from Outlook, Gmail, Thunderbird, Zoho in a format that is easy to access and does not require any proprietary software to open," said Olga Lapshinova, founder of Email In Detail. "Our goal with this program is to give both individuals and business an affordable email archiving solution that stands the test of time by storing emails in a PDF format. With just a few clicks, your entire email inbox and outbox can neatly be preserved for easy offline reading and retrieval later. We see it as a game-changing tool for a wide range of industries, include law enforcement, law firms, and government agencies."
Email Detail Archive offers a free and business version of its program as well as an enterprise licensing option. To learn more or to download the free version of Email Detail Archive, visit https://emailindetail.com/archive-emails.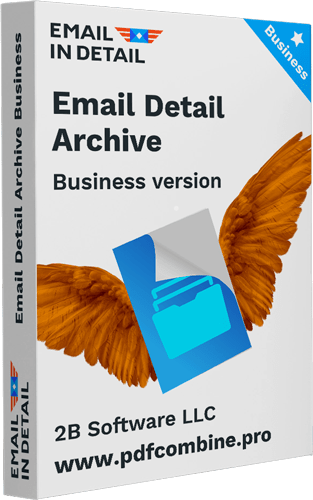 About 2B Software, LLC
2B Software, LLC, develops precise, reliable email solutions for archiving, back up, migration and e-discovery. The company now offers seven powerful apps to process emails outside mailboxes. Check out the brand-new line of email tools at https://emailindetail.com/.