Email Detail Archive vs. Kernel Email Migration Tools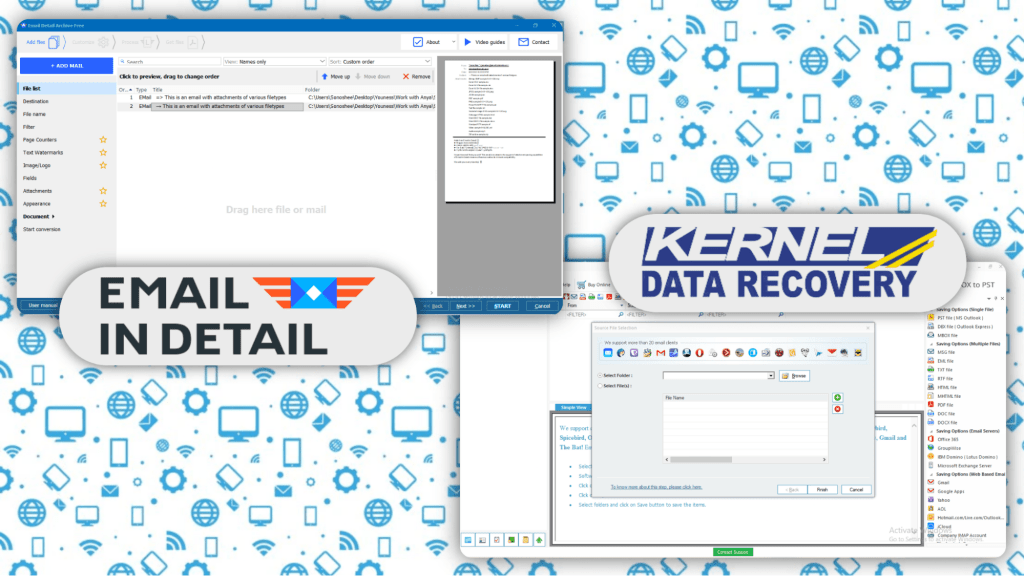 Introduction
When comparing the most popular email archivers, we paid attention to the most important functions, affordability, and user-friendliness of each software. You certainly don't want an email archiver that will corrupt your resulting PDF file or render it incorrectly. The ideal app should also be light on your computer as well as on your wallet. In this article, we go through the pros and cons of two of the most popular email archivers: Email Detail Archive and Kernel Email Migration Tools.
What is Email In Detail Archive?
Email Detail Archive will archive your emails as PDF files, as well as their attachments. This tool accepts all regular email file types as a matter of course. Its most unique feature is inviting the user to log into their email accounts right from the software. This will convert the emails there into PDFs straight away. Email Detail Archive also introduces clear indexing by adding page counters, date, sender, and legal notes. It is a powerful tool, very easy to use, and has a very convivial interface. It's an all-in-one tool; no need to juggle between different software for different formats. Best of all, it's free to use for up to 50 emails. A user may also upgrade to the Business version to get access to extra features.
What is Kernel Email Migration?
Kernel Email Migration Tools is a software suite that facilitates conversion between different email clients. For example, Thunderbird to Outlook, MBOX to Outlook, EML to Outlook, OST to Outlook, etc., and most email formats to PST, which is the property file format of batch emails in Outlook. The tool provides the user with a better and faster way to migrate email messages from one email client to another. It can convert to PDF, but that option is not highlighted on their website. Finally, these sets of Kernel Migration Tools are not free, and only an evaluation version is offered for download.
General Interface:
▼ Screenshots of Email Detail Archive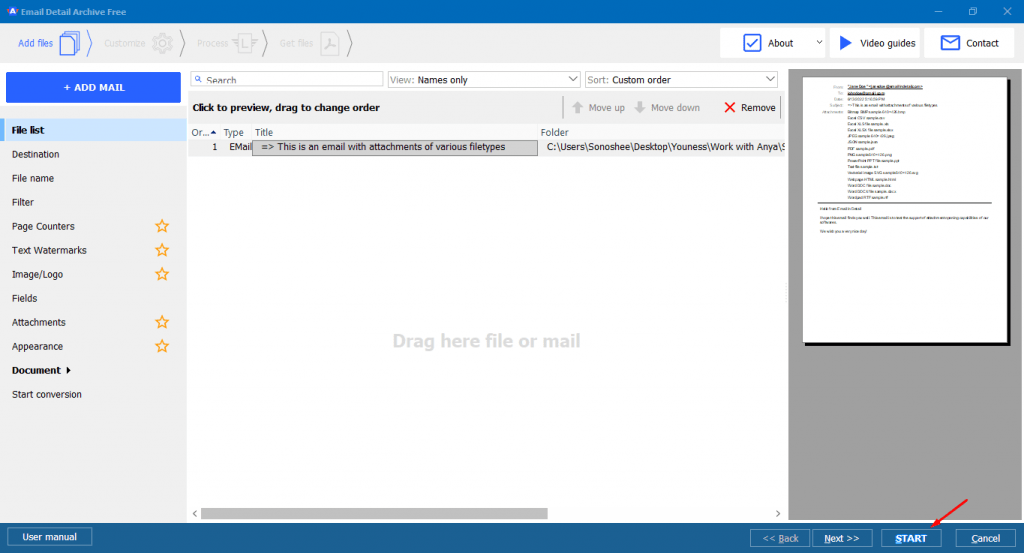 ▼ Screenshot of Kernel for MBOX to PST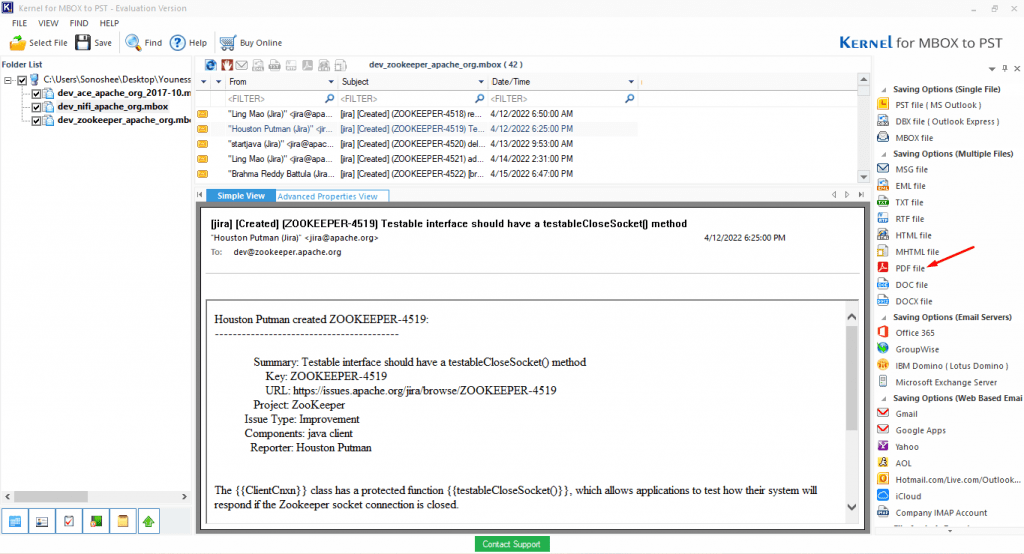 Both programs have a UI that's easy to master. They both divide the workspace into sections where the central area is usually reserved for displaying the body of the email. We believe the Email Detail Archive adds more emphasis on the buttons, intuitively guiding users. While more austere, Kernel Tools' buttons are also easy to locate.
Winner: it's a tie
Email formats
Support for a wide range of email files is the factor that plays the most into your choice of desktop email software. Kernel Tools can archive MBOX, EML, OST, and some other formats. Each of these email archivers needs to be installed separately to convert its namesake email file type into PDF, and this is exceptionally tedious.
Conversely, Email Detail Archive flawlessly opens EML, MSG, MBOX, PST, OST, MIM, and VCF formats all under one cover. These major file formats account for more than 95% of all emails being saved as files. Your saved email file will almost certainly be in either of these formats and consequently will be converted to PDF.
Moreover, Email Detail Archive is unique in that it can pull the emails from your email account right from within the desktop app. All you have to do is click the Webmail tab and log in as usual to your Gmail, Yahoo, Zoho, or any mail server account. It's nearly impossible to find an email file archiver that does that client-to-server job, but Email Detail Archive can.
That's why we consider Email Detail Archive more universal in that regard.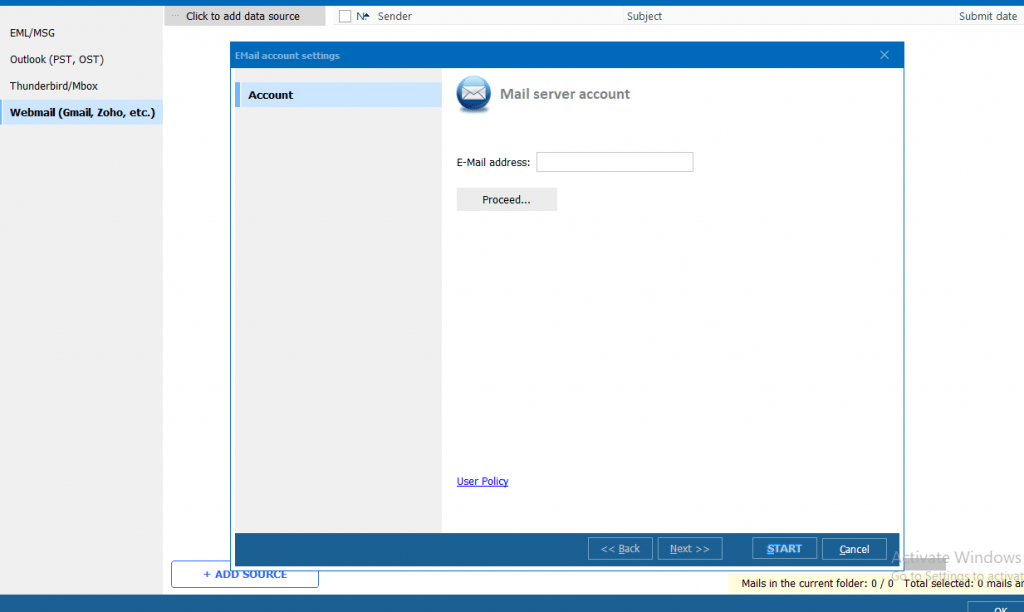 Desktop version (Is it stable, easy to install and lightweight)
Both solutions seem to be lightweight on execution. However, Kernel Email Migration Tools requires about 100MB of disk space for each file type tool. Since Kernel Email Migration Tools is a suite and not one software, you will have to set aside five times as much space if you want to have all five file archiving tools installed on your PC at once.
Email Detail Archive also requires 100MB of space, but it supports all five file types with a single installation. Plus, it can pull emails directly from your mailbox. So you are saving 500% of disk space that would have gone for the 5 Kernel Email Migration Tools. We also noticed that Email Detail Archive is more stable and runs without lagging or introducing resource-intensive tasks in the background.
Winner: Email Detail Archive
How engaging is their customer support?
Email Detail Archive and Kernel support services are fairly similar. They return emails in a short amount of time and render assistance to customers who are requesting guidance with their respective archiving software.
Email in Detail goes a little bit beyond that by providing a help button located on all their web pages, which can quickly allow customers and visitors to seek assistance. On top of that, Email Detail Archive renders support in different languages, including French and Turkish. Their specialists write copious usage instructions to customers – even those who are on the free version of Email Detail Archive. A client's status doesn't make a difference to the speed or quality of their response.

Winner: Email Detail Archive
Features: Support for non-Latin scripts
We understand that emails come in different languages and may even incorporate emojis and other Unicode special characters. That's why we created a test email with as many unconventional characters as we could put in and archived it on both software tools. We were pleased to see that both PDF archives preserved the non-Latin script. This did not corrupt the text whether it was in Arabic, Hebrew, Cyrillic, Japanese, or even traditional Chinese.Winner: It's a tie
Features: Additional Perks
When you open the free Email Detail Archive interface, you will immediately notice five extra options marked with a star on the left pane. They are Page Counters, Text Watermarks, Image/Logo, Attachments, and, finally, Appearance.
These are features especially crafted to embellish the final archived PDF. They're particularly important for the work of lawyers, paralegals, investigators, administrations, and professionals in general. While these perks will be available after upgrading to a paid license, Kernel Email Migration Tools don't offer such options at all. We think this is a major miss in the Kernet Email Migration Tools offering, since having your archived PDF labeled and watermarked is always appreciated.
▼ Email Detail Archive: Additional Features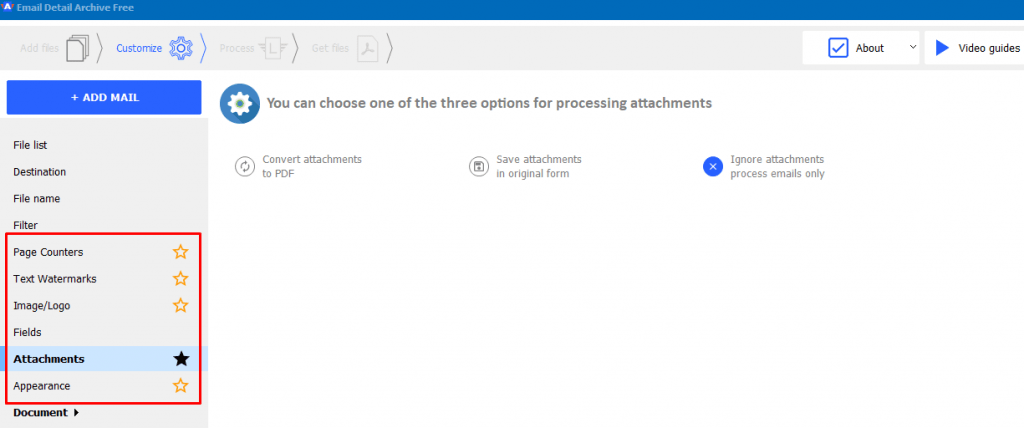 Does it break the bank? (Price) 
Email Detail Archive is free for producing PDFs for up to 50 emails at once. We think it's more than fair since no competitor offers this much – certainly not Kernel Email Migration Tools. So we can already call Email Detail Archive a winner in this category.
Each of the Kernel Email Migration Tools comes at the price of $39 for the Home License up to $299 for a Technician License. Email Detail Archive, on the other hand, has only one license, which is $159. Paying for it unlocks several more advanced capabilities like exporting to PDF-A, which is the ISO-standardized version of PDF specialized for use in the archiving and long-term preservation of electronic documents.
It's also worth mentioning that the Email Detail Archive team is very flexible with the pricing, launching numerous discounts during the year and quoting special prices for enterprises wishing to customize the Email Detail Archive with their own logo to highlight their corporate identity.

Winner: Email Detail Archive
Email Detail Archive vs Kernel Email Migration Tool: Conclusion
▼ Email In Detail Archive
▼ Kernel Data Recovery
This article makes a strong case for Email Detail Archive as your email archiver of choice. We think Kernel Email Migration Tools has its merit, but it's not free (trial versions only) and is just not as dedicated to saving your emails to PDF like Email Detail Archive is. The tools within lack many customization features and don't incorporate any of the bells and whistles that Email Detail Archive has.
The Email Detail Archive is definitely the top choice of professionals when it comes to archiving emails and producing pixel-perfect, well-labeled PDFs!