Email Detail Viewer Vs. BitRecover Viewer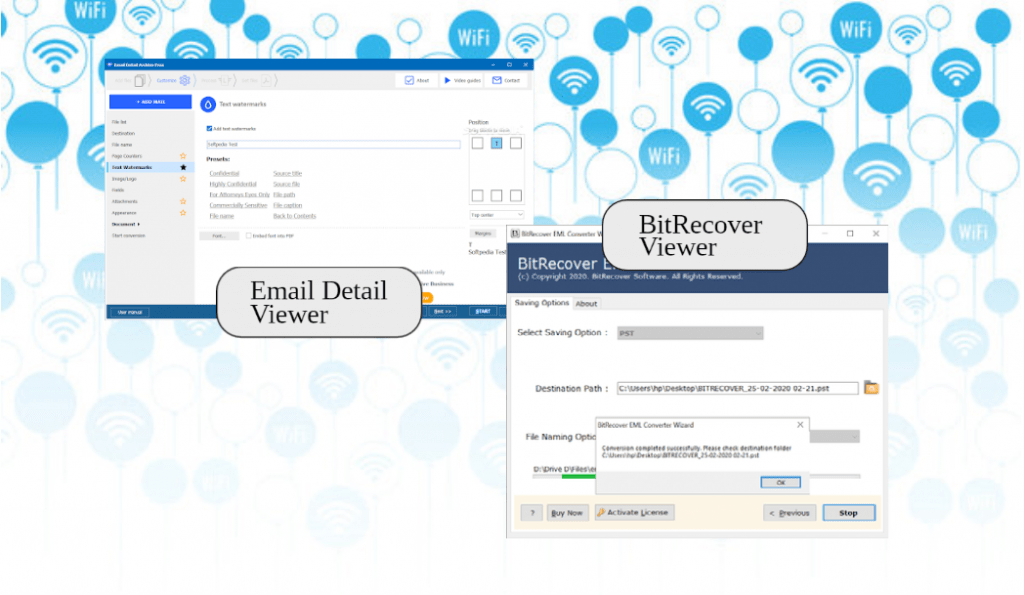 Introduction
Email viewer is a powerful tool for those who want to keep their emails and files on their computers. Many institutions and individuals use these tools regularly. This article compares two software, Email Detail viewer and BitRecover Viewer. Read more to learn about their pros and cons to determine which computer toolset deserves to be placed on your computer.
Email Detail Viewer
Email Detail Viewer is an important tool for viewing and opening EML, EMLX, VCF, MSG, MIM, and Winmail.dat files. It accesses emails without Outlook or another email program on your computer. It has many incredible features that allow the user to sort, print, and preview email attachments.
BitRecover Viewer
BitRecover Viewer is a useful tool to open and preview any file type attached to your email. This tool helps to mime information and display messages preview with 100% accuracy. It supports all file formats, including EML, PST, OST, MBOX, VHDX, ODT, and many more. Users can also extract the corrupted or inaccessible mime information using this viewer tool.
General Interference
▼ Email Detail Viewer Screenshot

▼ BitRecover Viewer Screenshot

Both software has the same user-friendly interface. However, BitRecover Viewer requires extra navigation to find certain options. 
Winner: Email Detail Viewer
Supported Email Formats
Email Detail Viewer supports EML, MSG, MBOX, PST, OST, MIM, and VCF formats in one application and runs smoothly. It can also process numerous files. Whereas Bitrecover Viewer only opens EML and MSG files that require different licenses. The good thing about both viewers is that you don't need to purchase different viewer licenses for all email formats. 
Winner: Email Detail Viewer
Installation
Both software are lightweight and easy to install. Recovery of data from external storage media is easy with BitRecover Viewer software. These include the PC's internal, external, USB, Firewire, and other popular media drives. On the other hand, Email Detail Viewer runs smoothly and is broadly stable, along with other tasks in the background.
Winner: It's a tie
Features: Sorting Emails
The important thing about the Email Detail Viewer is that it can sort your emails in the embedded file list. You can sort all the emails by file name, date, attachment presence, etc. in just one click.
BitRecover Viewer only helps find your lost data and is not capable of sorting emails.
Winner: Email Detail Viewer
Features: Viewing Metadata Header
The Email Detail Viewer and BitRecover Viewer both indicate the viewing capability of Meta Data Headers. Although BitRecover Viewer requires additional navigation, Email Detail Viewer makes it easy to find.
Winner: Email Detail Viewer
Features: Converting into PDF
Email Detail Viewer has a unique feature to convert a file directly into a PDF by clicking on the print option on the toolbar.
BitRecover Viewer allows to export emails in PDF format with paid version. 
Winner: It's a tie
Features: Support for non-Latin Scripts
You can receive emails in any language or script, which could include unconventional special characters and symbols. Email Detail Viewer and BitRecover Viewer support non-Latin scripts and other languages and can preview them with 100% accurate results. These tools will preview the files without corrupting the text, whether in Arabic, Hebrew, Cyrillic, Japanese, or conventional Chinese.
Winner: It is a tie
Adaptability to enterprise infrastructures
It is essential to have software that functions on all your PCs in the age of cloud-connected organizations. Luckily, the Email Detail Viewer tool offers batch installation that a network administrator in a company can do. On the other hand, BitRecover Viewer doesn't require any installation, and you can run and preview files on several systems for free.
Winner: It is a tie
Pricing
BitRecover Viewer has a free demo version, where you can experience how the damaged, deleted, or lost files recovery process takes place. Email Detail Viewer has a free limitless version for non-commercial use. A commercial license starts from $45. At the same time, BitRecover Viewer's license costs $29, giving you the authority to install and run the program on two systems. However, it is for non-commercial use, while the Technician license costs $69. You get to run the software on more than two systems with the Technician license. And it is recommended for the use of a business. So we can say that to operate more than two computers, BitRecover Viewer is not recommended.
Winner: Email Detail Viewer
Customer Support
For engaging customer support, both the software are exceptionally outstanding. They have a fast response and constantly try to answer the issues of their users. Email, in particular, drives past that by providing constant support at a low price and having maximum features.
Winner: It is a tie
Email Detail Viewer Vs. BitRecover Viewer: Conclusion
You can decide what software suits you better after taking a look at the Pros and Cons table below:
▼ Email Detail Viewer
▼ BitRecover Viewer