Biggest Barrier Purchasing New Software
May 21, 2020 | Posted by Michael Dango
The document productivity software company DocsCorp surveyed 500 project managers in the US to find out their plans for purchasing new enterprise software. Among other questions correspondents were asked about their poor experience with the software they purchased before.
Most managers name budget as the biggest barrier to purchasing new enterprise software. 56% of correspondents said their most recent enterprise software purchase took longer than expected. Then goes user adoption problem.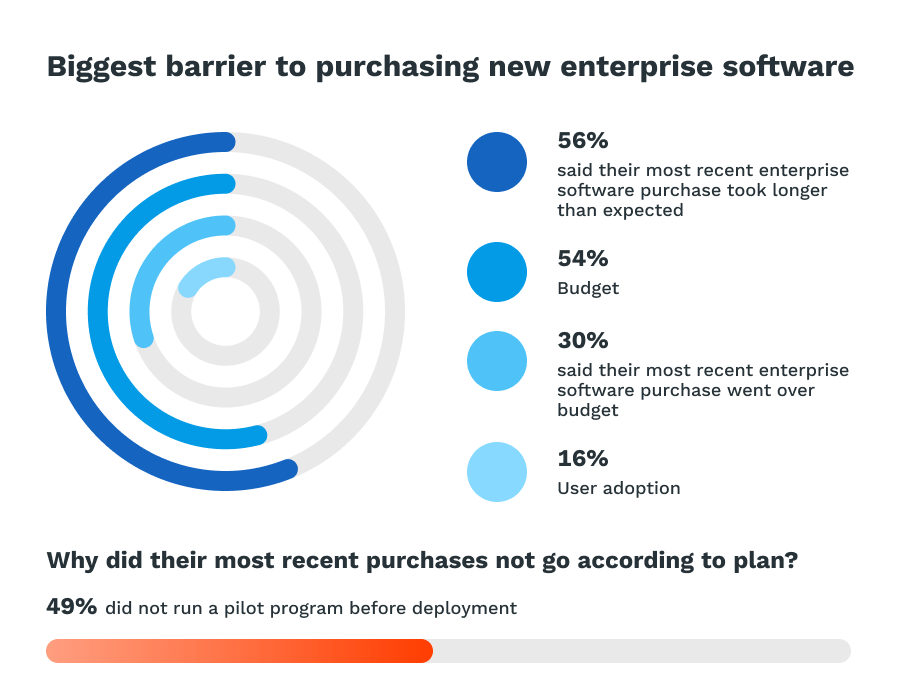 In short, when people buy software for their companies, chances are high they will face 3 issues:
go over budget
waste time on the purchase process
waste time figuring out how the purchased software works.
How to avoid these issues?
The correspondents believe that running a pilot program before deployment could help.
Here at Email In Detail, we are committed to the smoothest user experience.
We offer full-featured demos of all our email solutions. They are not limited in time. You download the program and test it when you want.
Buying our apps, you always know the final price; this price is often very affordable for small companies and law firms.
The purchase process is easy and quick. You just enter your credit card details and get the software in minutes by email.
You don't waste time trying to learn the settings. The interfaces are very straightforward, and we also include detailed video guides to help you.