Top 9 Free MSG Viewers Tested in 2020
April 15, 2020 | Posted by Michael Dango
Having difficulty opening MSG files? What even are MSG files? They are a type of file extension developed by Microsoft Corporation and used by Outlook. So, now you may ask, "well then, do I need to pay for Outlook to access them?"
No! We did the research for you and found 9 free tools to open an MSG file without Outlook. We didn't rely on site descriptions and indeed downloaded and tested each app on our test machine. Some surprised us a lot and we recommend avoiding them. Check out the list!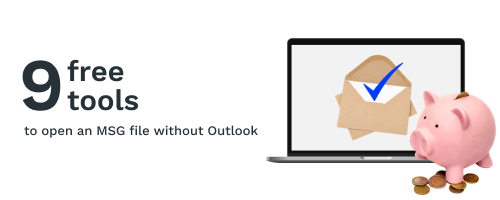 1. Email Detail Viewer
Email Detail Viewer is a free email viewer with a user-friendly interface. It has 2 modes of viewing MSG files: explore your folder tree or view each email full-sized. It does not only support MSG files, but various other email formats like EML, EMLX, MIM, and VCF. The name practically says it all – you view "email in detail." For example, you can view HTML or TXT versions of each email, view headers, attachments, and contacts. All you need to do is download and install the application. Don't worry about your computer's storage because the application is small in size! Email Detail Viewer is free for non-commercial users, while business licenses start from $45.
If you want to save emails as PDF files, try Email Detail Litigation.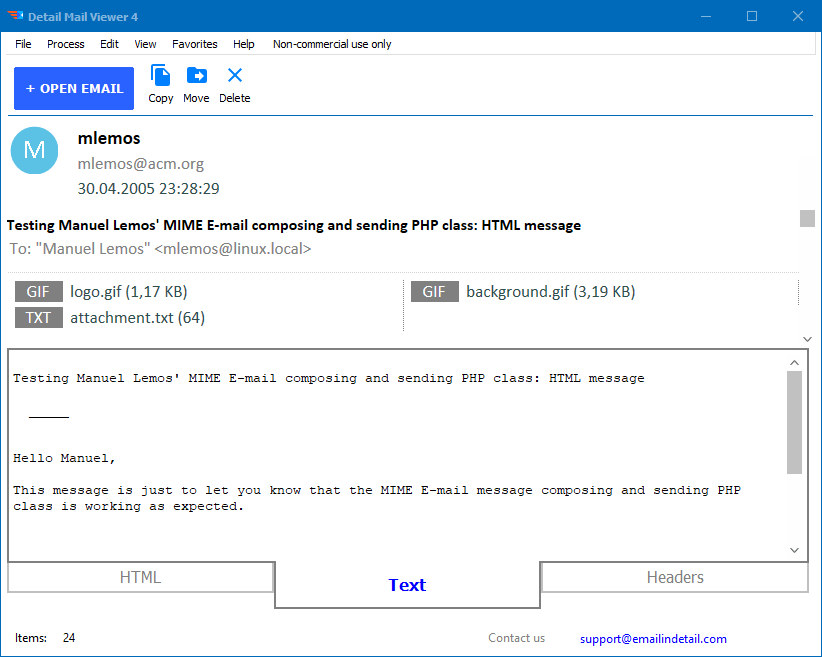 2. SysTools
SysTools offers an application that helps you open MSG files without having to install an email client. The Systools MSG Viewer Freeware gives access to the files and attachments. It offers most views: HTML view, Hex View, RTF View. SysTools allows you to adjust the attachment in order to view it better, such as zooming out/in and/or rotating it. The application's screen is a bit outdated. The folders tree on your left with the list of MSG files in the main panel and 1/3 of the screen is devoted to the mail. You can choose between having it on Vertical View Mode or Horizontal view mode. Want to export MSG files into PDF format? Systools has an option for you to upgrade to Pro Version for $69.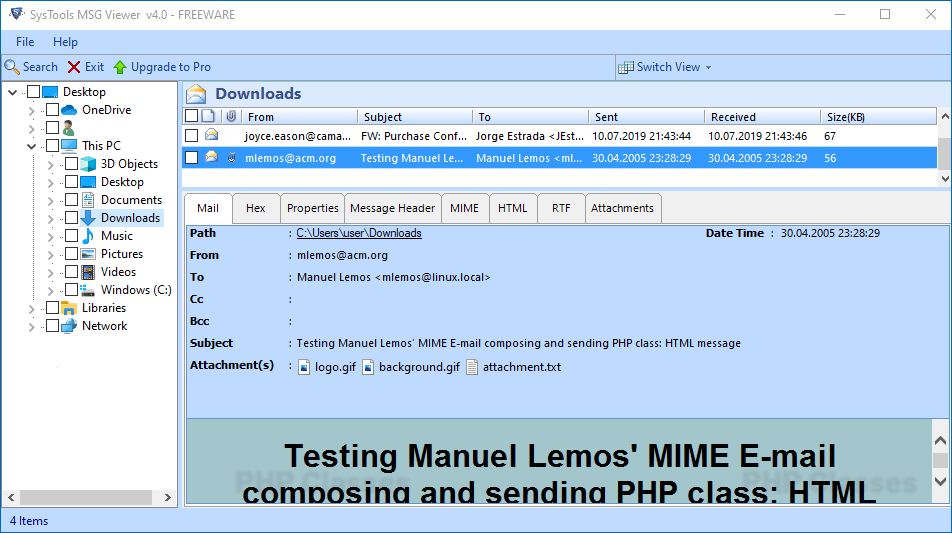 3. FreeViewer
We found it among top google results in our search. The official site reads that the FreeViewer allows you to view MSG without Outlook. FreeViewer was nominated 2020 Top Rated and Efficient Utility to View and Investigate MSG Files Message. And yes, it is free! However, when we downloaded and tried to test it, we got the error message. In fact, it the same Systool MSG Viewer we tested before. Just the new name and the new site. We can't recommend it.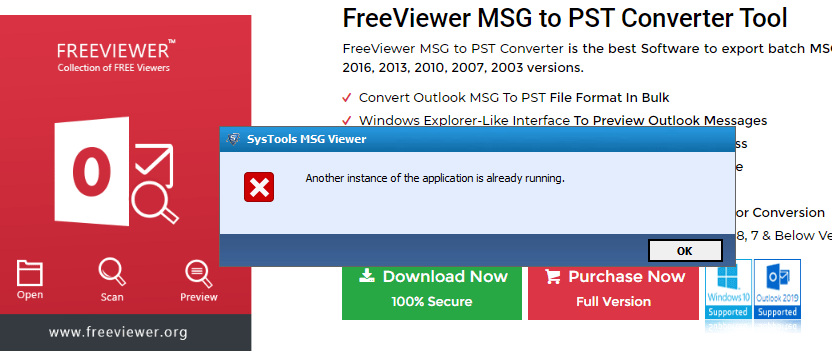 4. MailsDaddy
MailsDaddy's Free MSG Viewer offers immediate access to all the MSG email messages along with its properties and attachments. At least, the official description states that.
They certainly mean something else by their "free". As when we tried to install this free version, we immediately got this message:
It's not free, even for your personal use you should buy a license ($39). The msg viewer inside has no extra options, you can just view email in HTML format and see if it has any attachments. Attachments can't be previewed in the app.
Can't recommend it.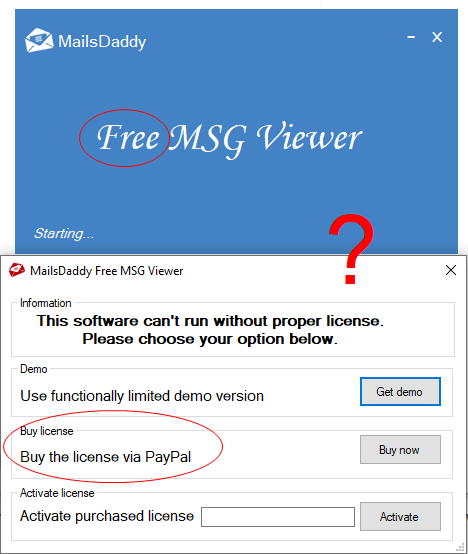 5. CubeXSoft
CubeXSoft has a free Outlook MSG Viewer that allows you to read MSG files, but you won't need to install Outlook. It supports all Outlook editions from earliest to latest. The software allows you to explore MSG files with the attachments.
It's what you get from the official site. Don't get fooled, there is no free msg viewer at all. When you hit the Download button you get the paid app. Save your time, don't try it.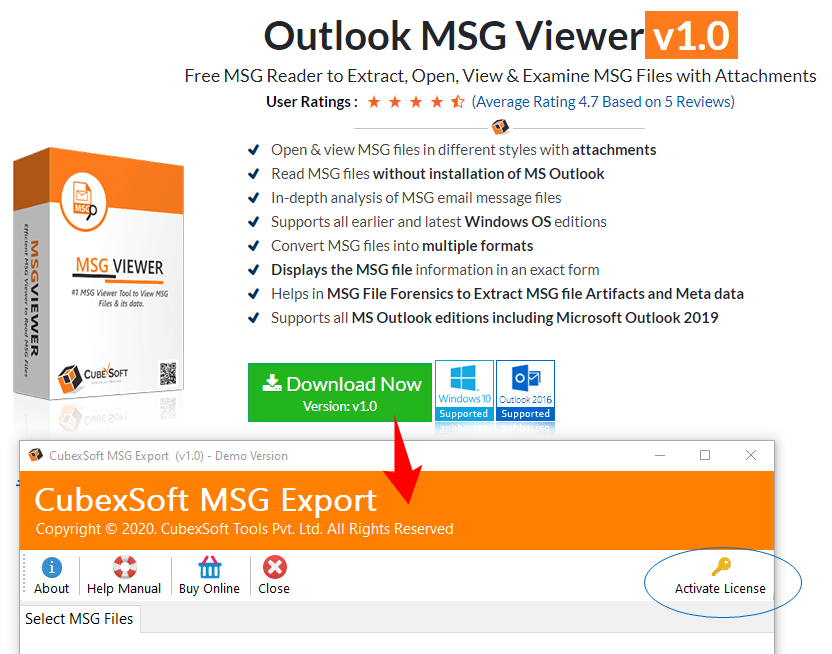 6. Zamzar
Zamzar is an online file converter that allows you to convert MSG files to other formats. For example, you could convert an MSG file to a DOC, PDF, or TXT. It's a online service, so you don' have to download anything. You will need to provide an email when you are at the step of converting the file or files. The service is free and does not annoy with paid upgrades notices. If you don't feel comfortable downloading any new software, Zamzar might be the right fit for you!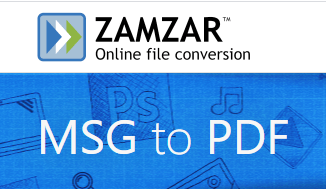 7. Encryptomatic
Another online service that helps you preview MSG files is offered by Encryptomatic. The process it quite simple: you upload your MSG and view it right in the browser. They support EML files as well.


8. Free Opener
Free Opener by EZ Freeware is recommended to open MSG files by LimeWire and Download.com editors. The editors might be right, but the app is unsupported now. Can't recommend.
9. Recoverytools
Recoverytools has a free MSG Viewer that allows you to open your MSG files. The publisher offers a variety of modes to preview the file like HEX, MIME, and HTML. However, the free version asked for a license. We can't recommend it.
We got somewhat frustrated by the end of our small research. Now you know that you don't have to take money out of the pockets to open an MSG file. While some companies don't provide true free msg viewers, users still have some choice. That's good news.